In The News
Charlotte Dougherty, CFP® of Dougherty & Associates has been quoted in several Investopedia articles:
401k Loan vs. IRA withdrawal
Why save for retirement in your 20's?
Want to retire early? Think again.
When it's time to stop saving for retirement
How is your 401k taxes when you retire?
Cincinnati 5 Star Wealth Manager
Lead Magazine BLOG: Talking with Grandkids About Money
Dougherty & Associates focuses on wealth management. We help prepare for critical life events such as retirement, loss of a loved one, and significant wealth/business transfer. Grounding our recommendations and investment strategies in the complete understanding of our clients' objectives and, most importantly, values, can only be achieved using a thorough, sophisticated planning process. This is a lifetime process that informs and transforms the investment decisions we make over the years.
Do you have a written plan to create retirement income that will last for your lifetime?  Contact us for a complimentary consultation. 
Our approach to investment planning relies on core principles developed and tested since the inception of our firm. These principles are:
Asset allocation provides the foundation to managing portfolio risk and return potential;
Tax efficiency and asset location are critical;
Portfolio expenses must be scrutinized and minimized;
Open architecture, non- proprietary solutions are evaluated;
Our most important role is to be an objective advocate. Our goal is to not only to control costs, but to also be tax efficient and to manage risk.
We leverage the power of technology to drive our disciplined 5 step investment process.
The Women's Choice Award for Financial Advisors was created by WomenCertified Inc. in partnership with WIFE.org, the Women's Institute for Financial Education, in an effort to help women identify financial advisors and firms that provide quality service and strong commitment to their female clientele. Advisors who qualify for the Award are evaluated using 17 objective criteria.      Click the logo to see our profile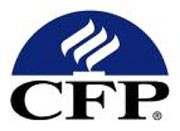 CRN-1180721-042215