Our Services

Wealth Planning and Management
Dougherty & Associates focuses on wealth management. We assist people in planning for critical life events such as retirement, loss of a loved one, and/or significant wealth/business transfer. Grounding our recommendations and investment strategies in the complete understanding of our clients & objectives and, most importantly, values, can only be achieved using a thorough, sophisticated planning process. This is a lifetime process that informs and transforms the investment decisions we make over the years.

At Dougherty & Associates, a key differentiator is that our work begins with you and your goals for your future and your family. We provide an objective and comprehensive financial planning analysis. We use this proven defined process to produce a customized financial plan, your financial condition model.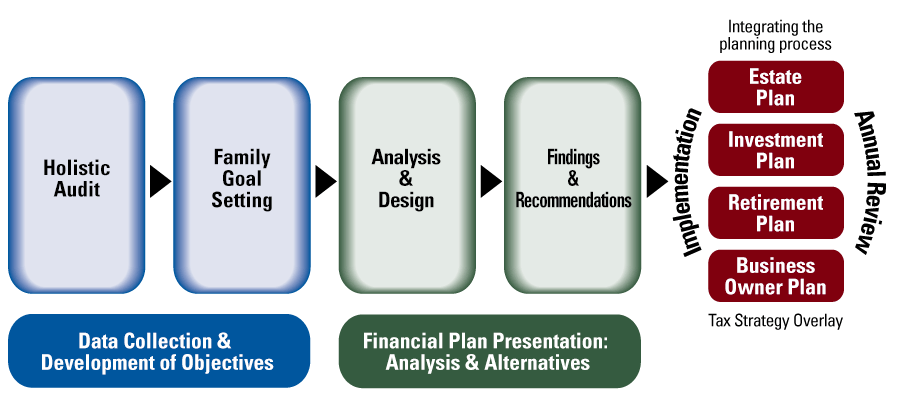 While developing a customized financial program, we will walk you through a step-by-step process that will help make you feel confident in your decisions.
Once your goals have been prioritized, we will tailor appropriate strategies to suit your vision and objectives. We can help you execute a sound financial program that will increase the effective utilization of successful strategies in all the following areas:
Tax reduction strategies
Investment planning
Retirement strategies
Estate conservation
Risk Management
The Planning Process
Planning for your financial future may seem complicated in today's world. A broad knowledge of everything, from complex investment products to elaborate tax laws, is required.
We can help. With our experience, knowledge and resources, we can help you navigate changing tax laws, volatile financial markets, inflation and evolving personal or business circumstances. We're here to help you find solutions to achieve your financial goals.
Throughout the financial planning process, we never lose sight of one essential element - personal service. We provide the best of both worlds: the resources of a large company and the personal attention you need to establish a plan for your financial future. When you partner with us, you work with a team of professionals in investment and retirement planning, education funding, insurance protection and estate and business planning.